Bill Clinton: Cultivating the Young Vote
Michael Peckham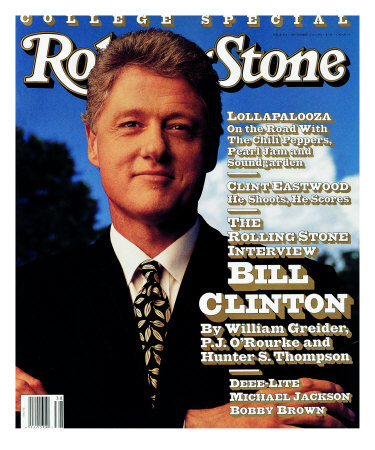 In the 1992 presidential election, Bill Clinton and George Bush competed for the oval office, however Clinton used his youth and energy to campaign to the youth and those in seek of change. Bill Clinton was able to win his first presidential election by utilizing many of the lessons taught by Cicero. Clinton was able to become president by appealing to the young people, appearing to be young, exciting, and appearing to focus on their needs (education etc), while at the same time blaming the issues of the modern day family and young person on the republican party, blaming them for unemployment/job loss and poor education/graduation levels.
Clinton appealed to the young people of his time by "being personable and... promoting" himself to the young voters as Cicero advised, appearing on television shows and playing saxophone
for millions to watch, talking to young people on MTV (in a later election) and even pushing his way to the cover of the College Edition of Rolling Stone magazine. Clinton made sure to appear to be an energetic, exciting, and likable person, posing a contradiction to the aged Bush Sr. who represented the Republican party. Clinton made himself appear, cool, young and likable
to the young people in 1992, helping make a connection to them and capture their votes.
Clinton also made sure to promote himself to the public, and especially to the young people, in his "Plan for Excellence in Education", making sure to focus on the "gaps in American education" from the previous republican president, his opponent. While at the same time Clinton also made sure to present his experience in the overhauling of education system in Arkansas, and his plan to make the United States offer the best education and jobs for the young people of his time.

Clinton also attacked the republican party, and his opposing candidate, by telling the young people the flaws of the Bush's previous term in office. Clinton reminds the populous the republicans had tried to lower college loans in one of his television ad's, again reminding the youth of why not to vote for his opponent. Yet again continuing to take the advice of Cicero, he took care to "assure the common people that you have always been on their side", reminding the young people of his "more than 11 years... on the front lines of the battle to revolutionize, revitalize, and reform education". By putting to use the power of young people in not only their voting power but their power to use their energy to help capture the presidential office.
As the election eventually turns out, the gap in the young vote, being 13% and the minority vote, helped Clinton seize the election, he took the advice of Cicero and was able to take the office in 1992. Without utilizing the many lessons taught by Cicero, seizing victory in the election would have been extremely difficult and likely impossible.
1992

Group

Clinton

Bush

Perot

All Voters

Pct.

43%

37%

19%

RACE

White

87

39

41

21

Black

8

83

10

7

Hispanic

2

61

25

14

Asian

1

31

55

15

AGE

18-24

11

46

33

21

25-29

10

41

36

23

30-49

46

41

38

21

50-64

20

43

39

18

65 & over

13

50

39

11

PARTY

Democrat

38

77

10

13

Republican

35

10

73

17

Independent

27

38

32

30

POLITICAL PHILOSOPHY

Liberal

21

68

14

18

Moderate

49

48

31

21

Conservative

30

18

64

18














Bill Clinton. Photograph. allpostersimages.com. July 1992. http://cache2.allpostersimages.com/p/LRG/ 

     18/1870/9YX8D00Z/posters/seliger-mark-bill-clinton-rolling-stone-no-639-september-1992.jpg. 

"Bill Clinton Saxophone 1992." Youtube.com. Video file. http://www.youtube.com/watch?v=VTkUeb6zQFA. 

Clinton, Bill. "The Clinton Plan for Excellence in Education." The Phi Delta Kappan 74, no. 2 

     (October 1992). 

"I believe in a place called hope pin." Photograph. Ebay.com. http://i.ebayimg.com/t/ 

     BILL-CLINTON-Campaign-Pin-Political-Pinback-Button-1992-/14/ 

     !Bi-3Obg!Wk~$(KGrHqEH-CEEsZidQOLHBLRlSY)V3!~~_35.JPG. 

"1992 Bill Clinton Campaign Ads (around October 1992)." Youtube.com. Video file. 

     http://www.youtube.com/watch?v=XoBFL6iwid4. 

Ropercenter.uconn.edu. http://www.ropercenter.uconn.edu/elections/how_groups_voted/ 

     voted_92.html#.UHa0mMXA9oF.